Mini press
Ultrasonic press cutting or welding on plastic and textile
Our Mini Press is a versatile workstation. Thanks to various tools and sonotrodes, this device can be used as press cutting machine or as ultrasonic welding machine. Moreover, it performs easy and quick operations with consistent results quality. This sturdy, compact and movable equipment allows to obtain clean edges without fraying, but also, clean and resistant welding without additional material such as glue or staples! Our Mini press is mainly used to perform various press operations such as:
Narrow ultrasonic sealing on different types of synthetic textiles, velcro®, plastics…
Cutting on straps, velcro®, ribbons…
Punching on ribbons, straps, plastics…
Marking on synthetic textiles
Ultrasonic Mini press applications:
Our press cutting and welding machine is adapted to small and medium size series in sun protection, clothing, ribbons, medical, packaging applications.
*Ultrasonic technology can be used only on synthetic textiles (with a minimum of synthetic fibers), thermoplastics or any thermo-fusible product. To be sure, don't hesitate to contact us for trials.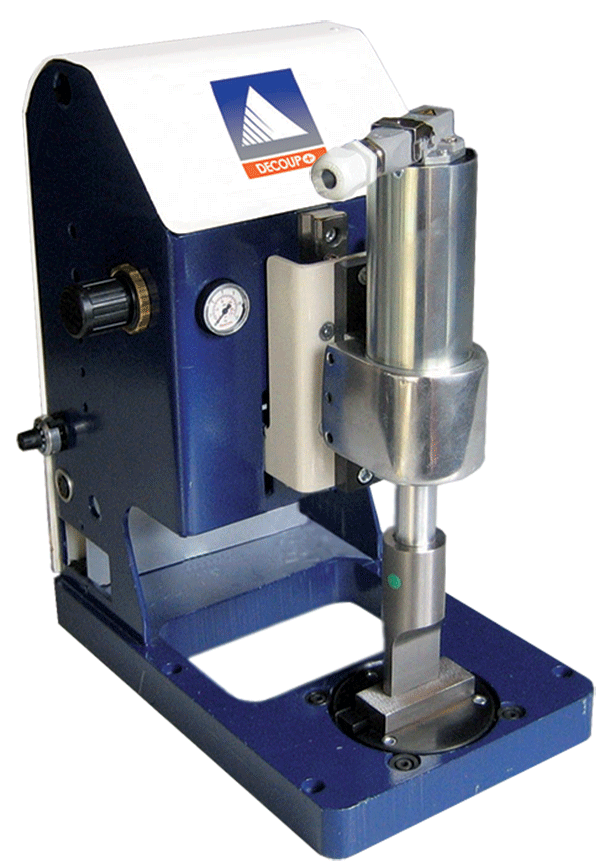 Description
Our ultrasonic Mini press has been specialy designed to combine different advantages like versatility, rigidity, precision:
Easy interchangeable tools to change quickly from cutting to welding, marking, punching
Maximum working width: 60 mm
Various cutting tools and sonotrodes / horns
Control foot pedal for an easy use
Technical information
Power: 300W
Supply: 220 V
Weight: 18kg
Ultrasonic generator: 300W (with power and time delays adjustments)
Guarantee : 1 year parts and labor
Ultrasonic technology : Ultrasonic press cutting – Ultrasonic press welding
Videos
Spare parts and accessories
For your spare parts or accessories orders, feel free to contact our spare parts team directly by phone +33 4 77 29 36 70 or e-mail : sav-decoup@spoolex.com
Spare parts: use the parts drawing provided with your Mini Press
Accessories available:

Cutting, welding or marking width up to 60 mm
Ultrasonic welding patterns on request
Ultrasonic cutting tools angles on request